Agitated Nutsche Filter Cum Dryer
We Dynatech Engineering Company are one of the leading manufacturers, providers, exporters and suppliers of high quality Agitated Nutsche Filter Cum Dryer to our clients in Taloja, Mumbai, Navi Mumbai, India, Saudi Arabia, Iran, Kenya, Uganda, Bahrain. This is an unique equipment, which works as a filter in vertical position and as a dryer in horizontal position. In this filtering, drying and unloading for packing are all one-stage operation.


Uses :
Separation of solid and liquid in chemical and pharmaceutical units. Separation of solids in effluent treatment plants. Filtering of edible oils and other oils.

USP'S of agitated filter cum drier :
Changing position from vertical to horizontal is first of its kind

Movement of mixing blades with auto hydraulic system

Power required for all the operations is around 5 HP, which is the lowest for such equipments.

Manual handling is reduced to the minimum and exposure to the atmosphere is all together done away with.

Solvent recovery is possible and product is prevented from flying into the atmosphere.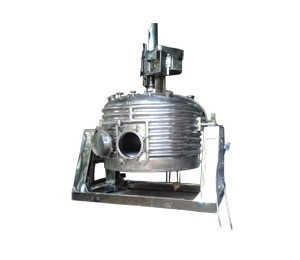 Design Aspects :
| | |
| --- | --- |
| Total Volume | 100 to 10,000 Ltrs. |
| Cake Volume | 50 to 4000 Ltrs. |
| Filter Diameter | 800 mm. to 2,500mm. |
| Working Pressure | Up to 6 kg/cm2 |
| Vacuum | Up to 760 mm. Hg |
| Rotary Motion | heavy duty reduction gear ratio 70 |
| Speed | 5 to 20 RPM |
| Motor required | 2 to 5 HP 1440 RPM |
| Reciprocating motion | Hydraulic |
| Movement Linear | 300 to 1,200mm. |
| Speed of movment | 0 to 250 mm./ minute(adjustable) |
| Motor | 0.5 HP 1440RPM |
| Filtering Section | Cloth specified by the customer supported with perforated sheet with special grooves for increased filtering area. |
| Support for perforated sheet | Removable for cleaning sheets |
| Vacuum Chamber height | Less than 50 mm. Ht. with slope for liquid flow. |
| Linear motion during drying operation. | Auto mode |
| Heating temperature range | 35°C to 150°c |
| Heating Medium | Hot water or steam |