Ultra Planetary Gearbox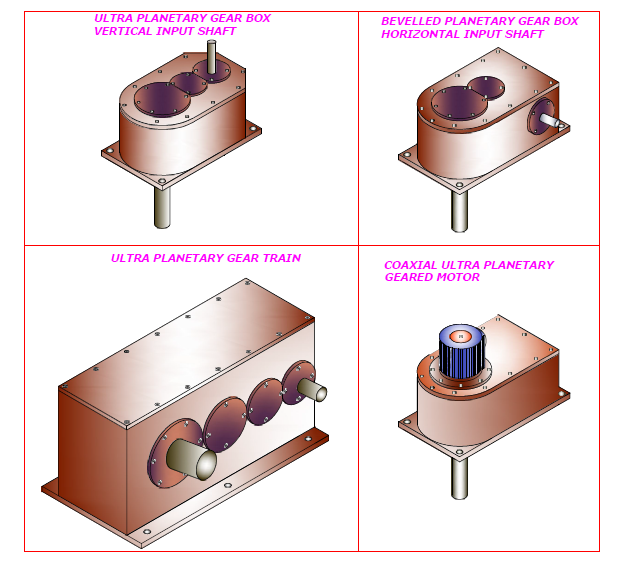 Dynatech Special Reduction Gears :
Recorded Special Features :
These are manufactured and marketed from 1983 onwards.

Gears run for more than 15 to 20 years without maintenance.

* 5 KL Reactor requires 2 to 3 HP Motors. Shaft Speed 20 to 150 RPM.

* 10 to 15 KL reactors run with 3 to 5 HP Motors. Shaft Speed 20 to 150 RPM.

* 15 to 35 KL reactors run with 7.5 to 10 HP Motors. Shaft Speed 20 to 150 RPM.

* A factory with 5 Nos., – 10 KL Reactors can run with 15 HP total power.

Cost Factor:


Gearbox for 5 KL Reactor cost Rs. 30,000/- (Dyantech Make). Other classical gearboxes of the same capacity would cost from Rs. 75,000/- to Rs. 1,00,000/-

Dynatech's gearboxes do not require separate bearing housing. Gearbox bearings act as bearing housing.

Dynatechs Lantern will have integral stuffing box which can withstand pressure up to 10 kg/cm2 and vacuum.

If customers prefer mech seals, extended output shaft is provided such that mech seal remains truly concentric.

Because the lantern does not require separate bearing housing, Lantern cost is reducing to almost 25% of the normal lanterns.

Lantern and gearbox assembly height remains about 800 mm. compared general system of lantern height of 1500 to 2000 mm.

Power saved – up to 80%. This means where 10 HP is required with general system, Dynatech system requires 2 HP.
Design Features :
Dynatechs gearboxes are made of helical gear sets which are precision machined and assembled.

Transmission of power is through line contact which leads to a transmission efficiency of 98% against worm gear screw rubbing against gear teeth leading to a power loss of 25 to 30%.

Dynatech gear system is such that by rotating output shaft, input shaft can be rotated. This means it can take shock loads loading high service factor.
Dynatech gearboxes are of 2 types :
Compact Gearbox of vertically downward output shaft for reactors etc. these are Ultra Planetary Gearboxes. The input shaft is also vertically upwards. These can be used with foot mounted or flange mounted motors. It can be geared motor, coupled motor or driven by belts. Speed range from 10 RPM to 150 RPM or more.

Gearbox with horizontal output and input shaft. These are also available with multiple Output shafts.
Use :
| | |
| --- | --- |
| Ultra Planetary Gearbox | Horizontal Multi Train Gearbox |
| Gearbox input and output shafts are vertical | Gearbox input and output shafts are horizontal |
| Drive motor - Either foot mounted, flanged type or directly coupled | Drive Motor - Convenient to use foot mounted drive motor |
Design Aspects :
| | |
| --- | --- |
| Ultra Planetary Gearbox | Horizontal Multi Train Gearbox |
| In Reactors, Mixing Systems, Open Vessels, Agitated Filters, Evaporators | In Dryers, Blenders, Cranes, Plate Bending Machines |
1) Ultra Planetary Gearbox :
| | |
| --- | --- |
| Reactor Volume | 50 to 50,000 Ltrs. |
| Output Shaft | 50 to 125 mm. Ø |
| Reduction Ratio | 7, 13, 17, 20 (General Basis) |
| Output Speed Range | 4 to 300 RPM |
| Power Range | 0.25 HP to 120 HP |
| Lantern System | With Stuffing Box or Mechanical Seal |
| Design Pressure | 0 to 10 Kg / cm² |
| Output Torque Range | 100 to 14000 NM |
| Design Working Life | Recorded 15 to 20 Years |
2) Horizontal Multi Train Gearbox :
| | |
| --- | --- |
| Output Shaft | 50 to 150 mm. Ø |
| Reduction Ratio Range | 20 to 64 (General Basis) |
| Output Speed Range | 2 to 50 RPM |
| Output Torque Range | 100 to 14000 NM |
| Number of Output Shafts | 2 Nos. possible with different speeds |